The three enablers to adding value at the right price
Although there is some evidence that the price for advice has been creeping up on the back of increasing demand, we don't believe this can continue. Greater regulatory focus on value for money for consumers, and the cost reductions afforded by digitisation, are likely to put price centre stage. When clients are faced with an increasing number of pure, cheaper robo models - the most simple of the three advice models above - then they'll begin asking why they pay so much more to an adviser. Clients need to clearly see what they're paying for; the incremental steps in value for richer advice propositions.
So the question is how advisers automate tasks that don't add value, to more easily focus on the value-add service the client sees. Three areas of advancement will help advisers achieve that.
1. Advanced portfolio construction
In response to market pressure, including criticism of premium-priced 'index huggers' and the current low-return environment, investment houses have been innovating. There's now a new breed of more sophisticated strategies that are truly active – including unconstrained, smart beta, thematic and private market strategies.
These can help advisers differentiate and can be used in a targeted manner, without adding significant cost to the overall portfolio.
Simple, pure robo advice models are likely to eschew any complexity, sticking to simple strategic asset allocations and passive components.
2. Mass customisation
Each client's situation is unique, so they need individual solutions. But that doesn't mean advisers need a completely different process for each client. It's possible to group clients into broad categories, and each of them will be a variation in that broad category. Advisers can deliver a scalable solution in a cost-effective way through configurable, automated processes and algorithms that are now becoming available on the most sophisticated platforms.
An example of this is using platform model portfolios to create tailored solutions. Platform model portfolios let advisers go from a managed fund (effectively a sealed unit) to a solution that can be tailored to a client's specific needs through client-mandated algorithms. Offering access to the same 'best in house' investment strategies, they offer the potential for virtually unlimited client-led variations at very low cost.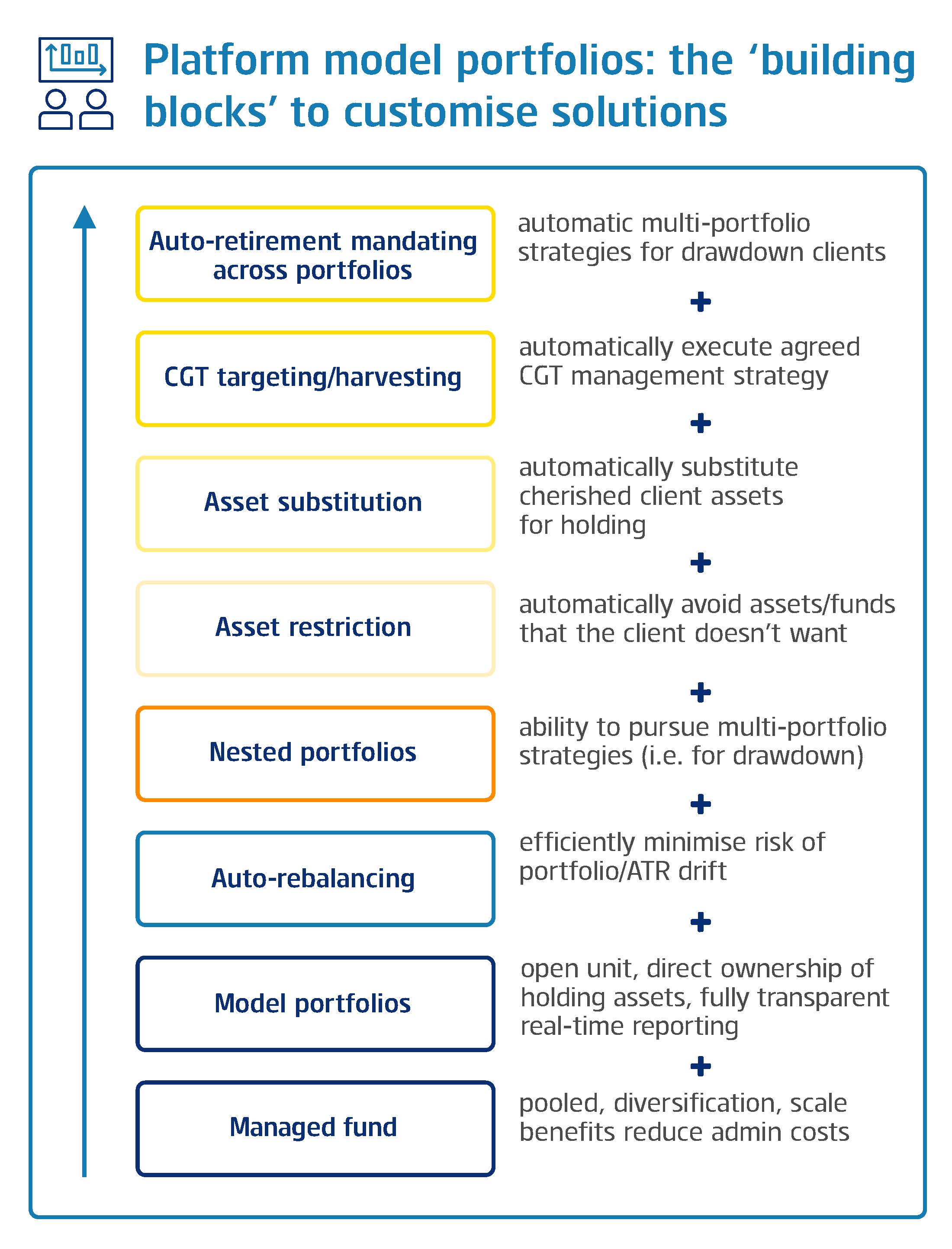 In the example above, I've started with a managed fund that has many diversification benefits but doesn't allow any tailoring. From there, I've gone onto model portfolios and added various different components, many of which can be automated, to create increasing value-add tailoring. The basics include active tax management, fully transparent real-time reporting and auto-rebalancing to make sure the portfolio maintains the right level of risk.
Then we move into more complex tailoring, such as using nested portfolios which allow advisers to run multiple pots that target different cashflows or investment goals. To add even greater tailoring, advisers can include asset restrictions if clients don't want certain investments in their portfolios and asset substitutions if clients have existing investments they want to keep. Both of these services can be automated. Similarly, capital gains tax targeting and harvesting can be automated.
The final component I've included is something which I believe will revolutionise the delivery of individually tailored solutions for clients and should be available in the next couple of years: retirement mandating across portfolios. This involves taking nested portfolios and – depending on the client's circumstances, spending habits, market conditions and real returns – preprogramming rebalancing across portfolios to optimise the likelihood of achieving their investment goals.
Please remember that the value of your clients' investments can go down as well as up and may be worth less than was paid in.
3. Client self-service
If a client wants to do something themselves, and it would be a cost to the adviser's business to do it, why not let them? Of course there are circumstances where full access may mean that clients could make decisions detrimental to their circumstances. This does not, however, mean it should be avoided. Rather, self-service needs to be controlled by the client's appointed adviser, providing comfort to clients that their actions are within agreed guiderails and controls.
Ultimately, client demands are changing in a world where we all expect easy and efficient interaction with the services we use. When it comes to investing, clients will expect to:
bring assets together in one place
be helped by open banking, the pensions dashboard and integration with back office systems
view straightforward, easy to understand graphics and use interactive tools
top up their investments and possibly perform some part of their withdrawal journey.
Meanwhile their adviser would retain control of setting permissions and parameters, doing the portfolio planning and reporting, sophisticated tax planning, all modelling and monitoring.
And all of the above will be possible. More savings data will become available in the future – not just from current accounts – making it easier to build aggregated, interactive models.
If advisers are willing to embrace the 'three enablers' – advanced portfolio construction, mass customisation and client self-service – then they access the potential to deliver truly individual solutions that don't require constant intervention.
The views expressed in this article are those of the author and not Standard Life Aberdeen. Standard Life Aberdeen accepts no responsibility for advice that may be formulated on the basis of this information.