Natural income on the Investment Hub
I'll start my first blog article with a big thank you. Our Investment Hub has reached an important milestone in 2017 for me, my team, and you too – assets are now over £3 billion. We couldn't have done this without you, and it's a great testament to the success of the Hub.
Natural income
We won't be resting on our laurels though - we've also been busy investing in the Investment Hub ourselves – developing, testing and implementing a new Natural Income feature. The goal of this is to give you greater flexibility over how natural income is treated within your model portfolios.
We built the Natural Income feature based on your feedback, and indeed advisers' feedback too. One of the most frequent requests was to develop the ability to accommodate model portfolios which specifically produce a Natural Income, and give you options over how the Natural Income is treated.
What this means is that as of now, any Natural Income within your model portfolios on the Investment Hub can be transferred to the client's Wrap account on the adviser's Wrap platform. Historically, Natural Income was always retained in your model portfolios, and you can of course still do this if it suits the client and adviser's needs.
A flexible outlook
Pension Freedoms is all about flexibility and Natural Income offers just that to advisers and their clients; it allows you to create and market income portfolios. We've designed a Natural Income infographic to help illustrate how the new Natural Income feature works between both the Investment Hub and Wrap platforms.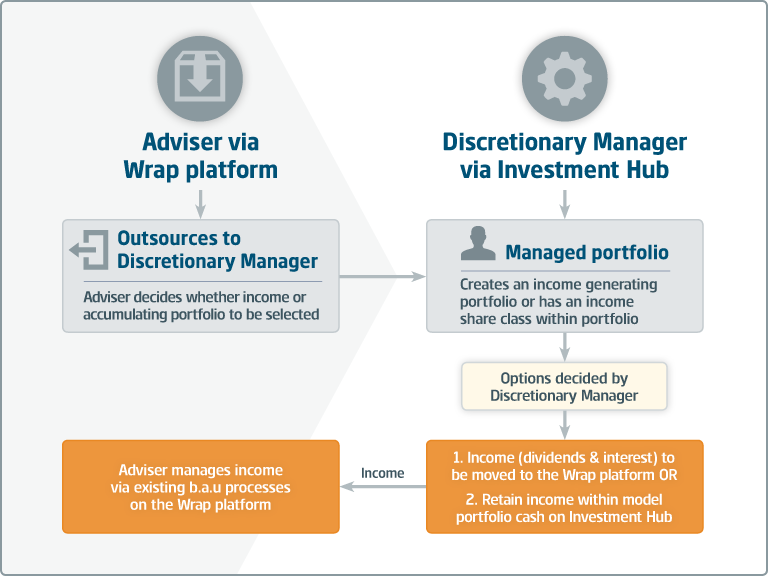 We're delighted to have been able to respond to your requests on this and I would personally very much value your feedback as we continue to develop our discretionary investment technology. Over the coming weeks and months we'll be in touch regularly, as I would like to hear your views and keep you up-to-date with our plans.
I'll wind up now with some hints and tips on some the most frequent questions we get asked in the Investment Hub team – we'll make this a regular feature so please let us know how it works for you.
Standard Life Investment Hub - Top hints and tips - Part 1
Getting Started - How do I create a new user ID on the Investment Hub?
You can do this at your end because creating a new user ID for your Investment Hub is controlled by your existing admin user(s). This will normally be the first user role that was set-up when your Investment Hub account was created.
An existing admin user can create a new user ID under the 'Business Management' menu tab; select 'New User' and then follow the on-screen instructions.
Full details on how to create a new user are covered on pages 3 and 4 of the investment Hub user guide.
How do I reset an existing user's password if they've forgotten it?
Happens to all of us! An existing admin user can edit a user's details under the 'Business Management' menu tab. Selecting 'Edit User' and then search for the specific user. Once the specific user is selected from the search result, an admin user will be able to:
Lock a password – this will temporarily suspend a user's access to the Investment Hub.
Expire a password – the next time the user logs in they will be asked to change their password.
Lock account – the user will no longer be able to log into the hub.
Reset password – the user will be sent a new password via an automatic email generated by the Investment Hub.
You can find full details on how to reset an existing user's password on page 5 of the investment Hub user guide.
Are there any restrictions on the answers to password security questions?
Yes - answers to password security question questions must be a minimum of 5 characters.
More hints and tips next time!