James McCann - Senior Global Economist, Standard Life Investments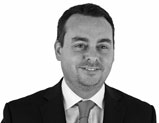 Jeremy Lawson - Chief Economist, Standard Life Investments
In recent weeks, two major hurricanes, Harvey and Irma, swept across the Caribbean and the Gulf of Mexico, causing significant destruction. James McCann, Senior Global Economist and Jeremy Lawson, Chief Economist at Standard Life Investments examine the potential economic impact of both storms on the US economy.
It is still too early to say with any great degree of certainty what the exact damage wrought by hurricanes Harvey and Irma on the US economy has been. However, we can begin to make some projections around potential costs and their possible effects on the wider economy.
Early estimates from Goldman Sachs for Hurricane Harvey suggest an impact of some $100 billion (bn), a figure that places it among the costliest natural disasters in US history (see Chart 1). Estimates for Hurricane Irma are at an even earlier stage, although the change in the storm's trajectory means that initial worst-case scenarios of some $200bn have since been revised down to around a quarter of that figure. However, combined, this still equates to a total cost of between $100 and $200bn – a not insignificant sum, even for the world's largest economy.
Chart 1: Counting the cost of disaster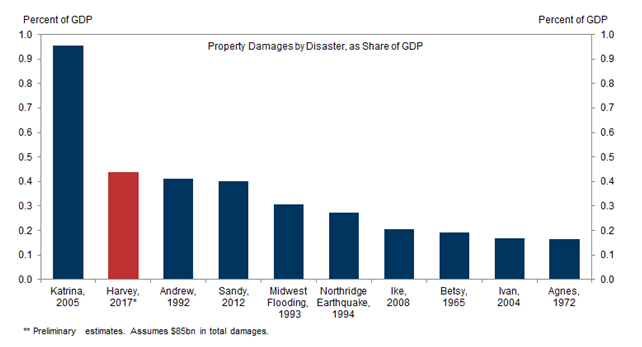 Who picks up the bill?
Costs for such events are borne across households, businesses, insurers and the government. In this case, insurance payouts are expected to be limited given low-levels of coverage; federal flood insurance in the Houston area was only around 20%, echoing the low-levels of coverage in those areas devastated by Hurricane Katrina in 2005.
The government is likely to pick up the lion's share of the cost, having already signed a $15bn relief bill for areas affected by Harvey. In the end, total support will probably run much higher than this and, depending on final costs and insurance levels, could eventually range between $50 and $100bn. The higher end of this range equates to around 0.5% of GDP.
Finally, households and businesses will bear some of the brunt and expenditure on repairs could weigh on other types of local spending and investment. Households may well lower their savings to absorb this shock, although it's worth noting that the US savings rate is already low.
Growth displacement
These events can cause significant short-term disruptions to local growth and supply chains. There are a number of channels through which activity has been affected.
Disruptions to production - we've already seen industrial output fall 1.5% in annualised terms over Q3, with the Fed estimating that production would have risen by 0.5% absent hurricane disruption, which curtailed drilling and extraction of oil and gas. These effects are likely to partly carry though into Q4, although we should see rebounds as production comes back online.
Local consumption − the Census Bureau indicates that it could not isolate impacts of Hurricane Harvey in August retail sales, but that survey responses were slightly below normal in hurricane-affected areas while September data posted a surprise to the upside. We are also likely to see weaker local services consumption due to disruptions to electricity.
Construction and investment − housing starts fell nationwide in August, although the magnitude of the fall in the South was not enormous. The impact of Irma will be felt in the September data. According to the Census Bureau, Texas counties most severely impacted by Hurricane Harvey made up 4% of total building permits in 2016, while Florida counties badly affected by Hurricane Irma account for 9% of 2016 permits.
Labour market effects − we're also likely to see short-term labour market effects. Initial claims spiked by 64,000 during the week ending Sep 2 as Harvey displaced residents from their jobs. Claims fell slightly in the subsequent week, but remain elevated compared to recent history. Non-farm Payrolls delivered a rare decline over August, with an estimated 1.5 million people unable to get to work due to disruption during the survey period. The recent volatility does not change the underlying picture of a robust US labour market.
Estimating the size of these local effects on aggregate US growth is challenging. Indeed, we will get a better steer around the degree of disruption when the hard data for September are released. Overall, we expect a drag on third-quarter growth from the hurricane disruption of around one percentage point in annualised terms. This reflects a very preliminary estimate of the fallout and we will look to update should data come in better or worse than feared.
Wait for the rebound
While the drags on growth may last for a number of months, we're likely to see a rebound from the fourth-quarter onwards, as temporary weather-related drags on activity fade and reconstruction efforts start to kick-in. One point to emphasise is that while reconstruction will likely boost GDP growth next year, this should not be seen as outright stimulus, rather a return towards the previous growth path.
Finally, the hurricanes will have a short-term effect on inflation. The shutdown of major oil-gas refineries has pushed up retail gasoline prices nationally. The effect on September CPI could range between 0.2-0.4 percentage points; however, this boost will likely be short lived.
Regardless, the Federal Open Market Committee should look through this type of shock, unless it proves severe enough to materially affect spending and saving behaviour. While we should see rising demand for construction materials in affected regions and wages in these sectors may see some boost, these are not expected to be large or widespread enough to materially shift national core inflation and therefore the Fed's thinking.
This blog and any responses to comments should not be regarded as financial advice.
Content in this section is provided by Standard Life Investments. It does not constitute any financial or other professional advice or recommendations.