So far in this series, I've explored what's driving demand and new competition into the advisory market and the models we believe will characterise the future. I've also considered the developments in investment innovation and mass customisation that will enable advisers to automate the tasks that don't add value.
Here I look in more detail at those opportunities to automate – so advisers can gain scale, reduce costs and risk, while potentially enriching their client proposition.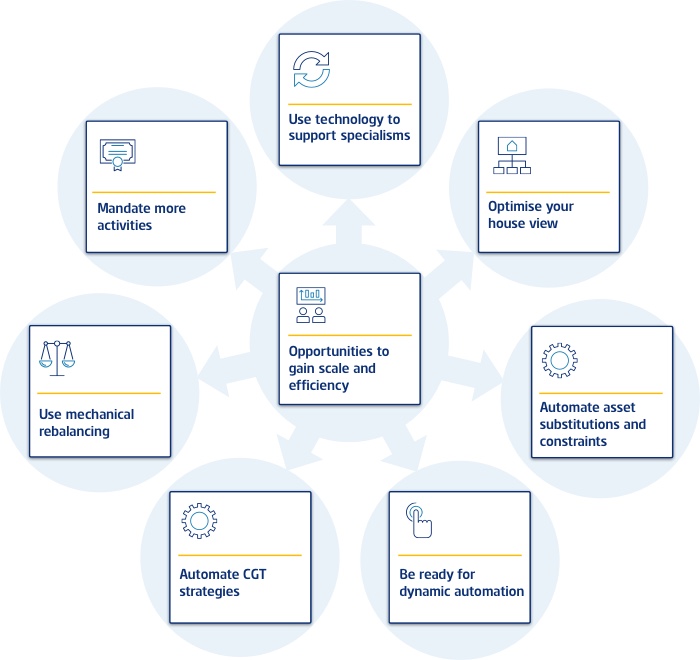 1. Use technology to support specialisms
It takes a super-human to meet the many demands being placed on adviser businesses; more clients seeking advice, satisfying the complex multi-year, multi-goal requirements of retirement, analysing assets and constructing portfolios, managing risk and control frameworks and accounting/commercial management – not to mention meeting changing regulation and taxation. This requires a variety of skills and capabilities; from business strategy and direction, investment analysis and portfolio optimisation, to client and administration services, to the various compliance and oversight roles.
Having specialist roles will help but it also creates potential for crossover and error. So it's crucial that functions work together, handovers are well understood and activities orchestrated.
The latest platform technology can help achieve that. For instance, technology can allow you to control access according to functional responsibilities – while also managing interfaces between roles. Consider the need to balance executing a capital gains tax (CGT) strategy versus executing your house investment views; or prioritising investment trade instructions versus client transactions. Good technology helps roles work together successfully – and provides you with a full audit trail of portfolio changes and investment instructions.
2. Optimise your house view
A house view can also help to clarify role decisions, segregation of activities and your client care policy. It can go beyond the expected inclusions (investments, strategic and tactical asset allocation, fund buying lists and reserve lists) to cover CGT strategies, prioritisation of rebalances versus client withdrawals, and prioritisation of fees versus payments.
To ensure consistent treatment of clients, it's important to have clear tolerance levels for a variety of actions. Time or limit-based rebalancing is a good example of this, but what's the house view on when a planning intervention is required? We all know for certain that a market-based investment portfolio is never going to track directly to a client's goal. Variance is expected, but at what level does the variance exceed expectations and further planning is needed?
If you address such guidelines in your house view, then each specialism is clear what standards are required.
3. Mandate more activities
Anything that can be mandated can also be automated. So you may want to consider the advice activities you could mandate and therefore streamline through greater automation. Mandating effectively reduces the requirement for resource intensive and expensive advice interventions; investment rebalancing, withdrawal strategies, allocation to tax wrappers, to name just a few.
If the actions you will take in different scenarios can be clearly explained to the client, then they're serious candidates for automation through mandating. And there are many potential benefits to doing that:
It reduces human intervention (time-intensive calls and meetings), so helps manage costs and improves efficiency
It reduces the risk of human error and ensures clients are looked after to a consistently high standard
If you're running investments under an advisory model, it allows you to actively manage portfolios without constantly needing client permission, while still clearly demonstrating that you're not using discretion.
4. Take advantage of mechanical rebalancing
Portfolio drift is a real concern, especially for clients in drawdown who could be exposed to sequence risk or pound cost ravaging. The more frequently a portfolio is rebalanced, the more it stays in its risk boundaries and aligned to the client's goal.
It's possible to manage this, while also meeting audit control and regulatory requirements, using mechanical rebalancing – which is really just another term for automation. This type of rebalancing can be done without further client consent or discretionary manager permissions. A simple change to terms and conditions is all that's needed to take advantage of this capability.
Doing so means the adviser and client have certainty that their portfolio will stay in its risk parameters; vital especially for the short- and medium-term goals of clients in retirement. There are various options, from weekly up to yearly. And it's easy to detach clients from model portfolios if target allocation is changing without client authorisation or agreement.
Your investment portfolio manager is free to instruct a rebalance for a client at any time – even at the same time as your financial planner instructs a withdrawal for the same client – as the platform technology will know to queue the request and action both requirements appropriately and successfully.
There's a lot of debate around adviser centralised investment propositions (CIPs) and the need to reflect the differing requirements of drawdown clients. Mechanical rebalancing is a straightforward, easy-to-implement step in the right direction.
5. Automate CGT management strategies
This is another example of using automation – and mandating – to reduce processing overheads and improve client outcomes. Platform technology will soon be available that will enable an adviser to mandate a CGT strategy and allowance for the investment portfolio manager to follow, whether in-house or as a third party.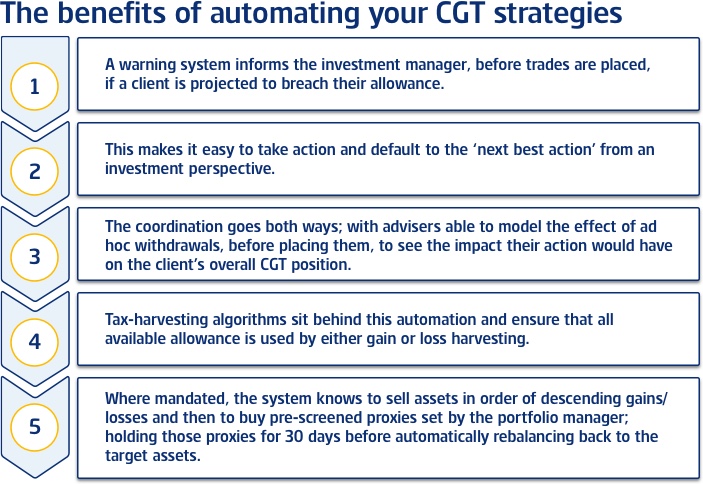 This integration between financial planning, the investment manager and the technology allows a client's individual CGT position to be easily and efficiently managed in a centralised model.
Other areas where mandated automation is clearly beneficial include a more integrated approach to cherished assets. For example, allowing them to become proxies where appropriate, automating uptake of clients' annual ISA allowances, and implementing tax wrapper allocation policies.
6. Assume you'll be able to automate asset substitutions and constraints
It's easy for some client requirements, such as asset substitutions and constraints, to interfere with the efficient running of your investment process. But in the near future, automation should help to simplify this by supporting the easy use of proxies or alternates.
7. Be ready for dynamic automation
While you can already employ technology to automate several component parts of the advice process, I'm really excited about what lies ahead. Using automation, you'll be able to dynamically adjust your clients' investment strategy using algorithms that will combine your house views/policies and your client-specific mandates with accurate outcome data.
This level of automation is transformative. It allows you to give your clients an advice service that adjusts to meet their evolving requirements – without burdening your resource. And that could create significant value for both your clients and your business.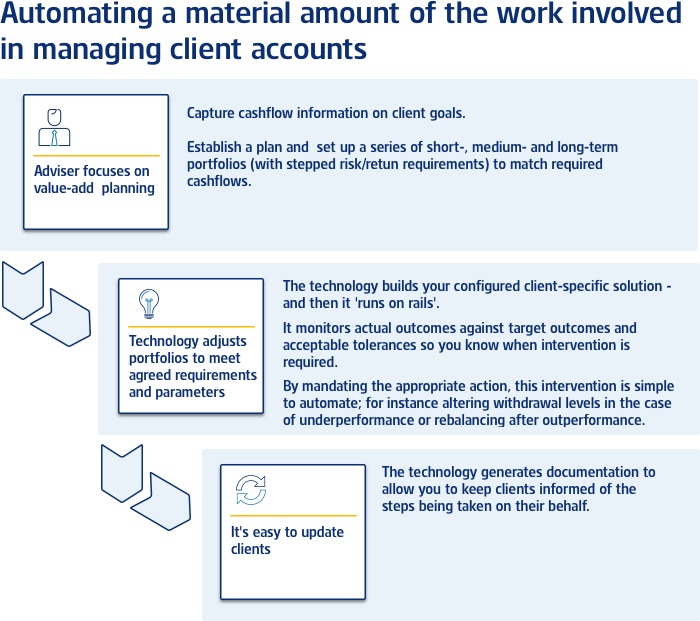 The future favours value-add advice
I began this three part feature looking at the drivers of the huge demand for advice and some of the competition that will enter the market to chase this demand. But no matter the challenger models entering the market, advisers have the competitive advantage: their unique understanding of clients and their goals. And this brings the opportunity to more accurately match their services to what clients need, more so than a simple, passive-led robo model could support.
But of course there's the price issue; achieving that value-add solution for clients at a cost that's acceptable, given that clients will be aware of lower-cost models. And there's the scale issue; how can advisers support existing and new clients with increasingly challenging requirements while meeting regulations and managing risk?
The answer to both issues is the new technology – the many tasks you can automate – that the really sophisticated platforms will be offering. The functionality I have covered is either already a reality or very nearly here. There's growing scope to transform a business, enabling advisers to gain scale and efficiency, and to manage risk – freeing up time to focus on the things that clients really value, such as time with their adviser.
Please remember that the value of your clients' investments can go down as well as up and may be worth less than was paid in. Laws and tax rules can change. The value of tax benefits depend upon individual circumstances.
Did you miss the first two parts?
The future of advice: What's driving increased demand and competition, and the advice models of the future.
The advancements that can help you succeed: The advancements in investments and platform capabilities that can help advisers future-proof their businesses.
Standard Life Aberdeen accepts no responsibility for advice that may be formulated on the basis of this information.