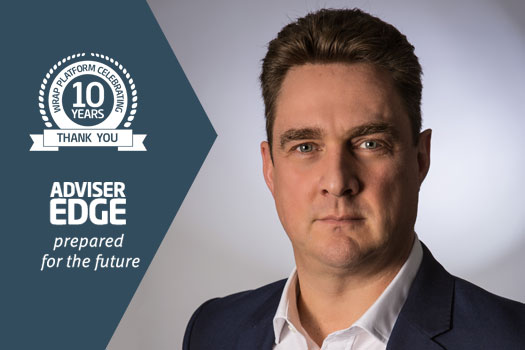 Ross Butters is the Managing Director of Omnium Wealth Management. Ross has 25 years' experience in financial services advising both private and corporate clients on all aspects of financial planning. Ross's firm was the first adopter of Standard Life's Wrap platform.
"Standard Life has always struck me as innovative. The UK was quite late to the party when it came to 'wraps' - the platforms that financial advisers use to manage multiple funds all in one place, a bit like internet banking for investments. Up until about ten years ago, they were more commonplace in other countries - particularly Australia, where they have a less complicated tax system.
For the UK, platforms really needed the advent of broadband to become widely used. And sure enough, as soon as they were workable, Standard Life was there with an offering as part of their focus on providing the best possible tools for the adviser industry. We decided to jump on board, and we're glad we turned out to be 'early adopters'.
The Standard Life wrap platform presented a whole new way of working for us. Adviser firms had started to change, but this was a real turning point. In the 1990s, it had been a case of setting up investments for clients with different providers, and the only time they really knew what was going on was when the annual statement arrived. It was very transactional: there wasn't an ongoing client-adviser relationship.
Then, after the millennium, the focus started to gradually shift towards forming these types of relationships - and the early platforms began to facilitate that. As technology improved and the platforms evolved, the more forward-thinking firms in the industry were able to adapt in the same direction and provide a more client focused service on an ongoing basis - which is what forms the best of our business today.
We set up in 2006 with our Standard Life wrap platform and it's had a hugely positive impact on what clients expect - and what we are able to deliver. We're a firm of seven advisers: we wouldn't be able to manage 175 million of assets ten years ago as efficiently as we do now.
We don't just use the Standard Life wrap platform - to deliver our investment proposition, we work with several platforms, and they all have different strengths and are suited to specific products. It's about finding a balance: regulations encourage independence and don't like to see just one platform being used. But too many platforms could overcomplicate things and prevent us driving efficiency within the business.
This efficiency, client focus and ability to deliver our investment proposition are the reasons behind one of the greatest success of our firm over the last decade. In 2011 we bought another, smaller, adviser business - complete with some great clients. But the firm was being run in a much more traditional way, with old-fashioned portfolios and no platforms. We've transitioned the majority of the clients onto the Standard Life wrap platform - with their best interests in mind. And although to start with there was some resistance to this, the clients now love the way we work and the retention rate has been high. We've built on the relationships, which are now stronger than ever."